05/05/2016
Competitive Intelligence For You,.....People, Performance & Pay. Contact facilitator at the heart of Business. Connect, share and meet those who are right next door.
People, Performance & Pay. Contact facilitator at the heart of Business.
Connect, share and meet those who are right next door. Let your inerests be known and discover the profiles of your neighbors.
SRU-Electronics is the legitimate strategic and tactical research and analysis designed to identify threats and opportunities.



Gravitation Towards Online, Searchable Information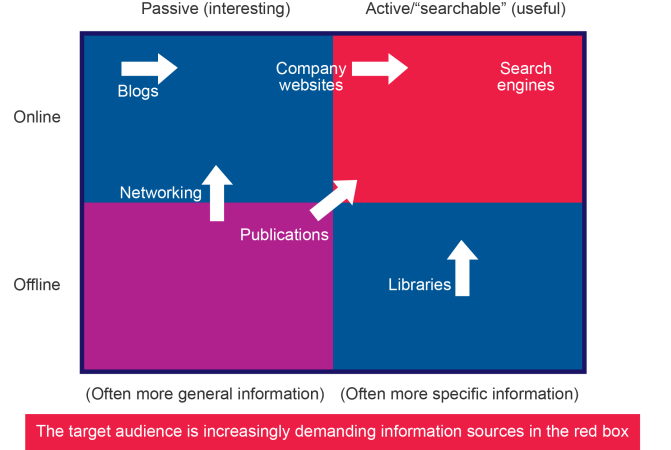 Knowledge and Experience
At SRU, we have built our business around knowledge and experience and our 'b2b focus' has given us insights and intelligence from which your business can greatly benefit.
Please take your time to look around our website where you will find evidence of that knowledge and experience through our many publications and cases histories.
Quite simply, we have carried out more business to business market research studies than any other company in the world – ever. We hope you agree that our understanding in business to business markets goes beyond knowledge, truly setting us apart.
Make competitive intelligence part of your business practice and be on the cutting edge
Competitive intelligence is the art of defining, gathering, analyzing, and distributing intelligence about products, customers, competitors, individuals, concepts, information, ideas, or data needed to support executives and managers in making strategic decisions for an organization. Competitive Intelligence For You introduces you to this fascinating subject and gives you the tools you need to incorporate it into your business decision–making process
Today, competitive information is more readily available than ever before. You can find endless information online in an instant. Yet the information that is most valuable to you and your business cannot be found on a Google search. Acquiring this information requires a lot more intelligence.

LONDON. 155 BISHOPSGATE. 24 - 25 MAY 2016
What do Heathrow, Blippar and Graze.com have in common?


They are all driving the digital revolution.
We're now just three weeks out from Shift, where over 50 speakers and 500 digital revolutionaries will explore how best to beef up their business plan and survive digital disruption.

There are over 50 case studies to choose from, including how to disrupt an industry from the CEO at Nutmeg and how marketers can win buy-in from the boardroom for new digital initiatives from the CMO at easyProperty.com. Plus sessions from Jaeger, Brompton Bikes, Graze.com and Nissan.

With so much going on we thought we'd give you a heads up on some of the topics will be discussing on the day with help from the ClickZ editorial team.
What it's like handling the social presence of the busiest airport in Europe? Heathrow airport seems to understand how Twitter may boost customer experience, especially using real-time updates.
BY TEREZA LITSA
Graze, the snack company which provides nutritious nibbles in slim cardboard subscription boxes, has become a regular fixture in offices, homes and supermarkets thanks to a range of canny marketing techniques
.
...
Read more
What makes a digital influencer? Is it follower numbers? The ability to find and create great content? Or just a genuine passion for transformation and...
Read more
Jess Butcher, the director and co-founder of augmented reality app Blippar, is speaking at our Shift London event in May, so to prepare for this occasion, we thought we'd get fully immersed in the world of AR...
Read more
Your blog is a powerful tool. Publishing blog content on a regular basis can provide an organization with a number of distinct benefits, which include:
Brand building and awareness.
Positioning yourself as a thought leader.
Demonstrating your (or your organization's) expertise.
Developing relationships within your niche.
Fostering an engaged and active community.
Generating leads.
Blogging is also powerful from an SEO standpoint as well. Strategic and active blogging can help you:
Incite more crawling – the more you publish, the more your site gets crawled.
Penetrate more keyword verticals.
Attract links – provided you're promoting your content; passive link acquisition is difficult if not impossible for most sites.
Generate social signals.
Drive more organic traffic.
Despite the inherent "SEO value" of blogging, many blogs just aren't properly optimized for search, or aren't optimized to their fullest potential. As such, these blogs aren't working as hard as they could be for an organization from an SEO standpoint.
Many of the fixes and improvements you can make are really quite simple. Let's take a look at six steps every organization can take today to improve their blog's SEO.
1. Practice Good Pagination
Pagination on a blog is a system for enumerating pages so you can organize and archive content. Pagination is particularly helpful for usability because housing all your blog posts on a single page that scrolls endlessly isn't a practical or user-friendly approach. A single page with hundreds of blog entries would undoubtedly hurt load times too.
When it comes to SEO, pagination implemented correctly maximizes "crawl depth" and makes your content easier for engines to access by reducing the number of clicks needed to reach deeper, archived pages. In addition, proper pagination is a scalable way to flow more (or a larger percentage) of PageRank to your archived content.
Here are some solid examples of SEO-friendly pagination (multiple, numbered hyperlinks means fewer clicks to reach older content).
It isn't just blogs. Search engines practice good pagination practices as well, so take a page (or a post, if you will) out of Google's playbook.
If that's good pagination, then what's bad pagination?
Examples of poor pagination (or complete lack of) are pretty rampant across the Web. Some of the biggest offenders are free, off-the-shelf WordPress templates where you get a either a single hyperlink to access archived content "older entries," or two links "older entries" and "newer entries."
So why is the above example bad?
Having a single link means it can take exponentially more clicks to reach older content, which can make it harder for bots to find. Also, a single link means each subsequent archived index page (and the posts linked from it) is getting a smaller percent of a percent of PageRank. By the time you've gone five clicks deep into your archive, those pages and posts are starved for link equity.
Some of my favorite pagination plugins are:
2. Add Related Posts
As mentioned in the above section on pagination, it's critical that you make your blog content easy to find (both for bots and users). If your content is buried a dozen clicks deep or if it's orphaned entirely, that content can drop out of the index or won't have enough link equity to outrank competitor documents, rendering those pages useless from a SEO perspective.
So another way to improve the findability of your content is to add a list of related articles at the end of each of all your blog posts. Not only does this elicit more page views with readers, but this practice also helps flow link equity to deeper content and improves the circulation of PageRank across your blog. Finally, given there are keywords in the anchor text, related posts are an internal linking mechanism that reinforce the semantic relevance of a document they're linking to.
If you're running on WordPress, adding related posts is relatively easy, and there are a range of some very good related post plugins:
3. Add Previous and Next Posts
Similar to implementing a related posts feature on your blog, you can increase findability with "previous" and "next" post links, which can appear at the top or at the bottom of an article on your blog.
Much like adding related posts, "previous" and "next" article links effectively surfaces your content and improves link equity distribution. In addition, these types of navigational links can help increase time on site, and boost overall user-engagement and satisfaction signals via the "long click," a behavior metric Google is potentially measuring.
4. Proper Use of Categories
Categories are another component on your blog you can leverage to boost your organic search efforts. Besides making archived content easier to find (a common thread here), categories help classify and silo your content into topically themed pages, which creates additional opportunities to rank in search results.
Some category best practices are:
Limit the number of categories you have. Categories are often misused or abused with contributors creating a new category every time they write a new post, which can lead to really thin pages of content (pages with a single post snippet). For small- to medium-sized blogs, 10 to 15 categories are really all you need.
Select only one category per post. Contributors often abuse the category select feature and click on multiple categories before posting, which can risk duplicate content issues.
Add original content to your categories to help make them unique. This plugin works well for adding introductory content to category pages
5. Vary Title Tags vs. Article Titles
Keywords are the foundation for your SEO efforts. Most bloggers understand this and often include keywords and keyword variations in their copy. But where many authors drop the ball is by not varying the title of the blog post and the title tag element.
Often this is due to inexperience, time constraints, or the option doesn't exist in their dashboard (which is easily remedied with the proper plugin). As such, the CMS or publishing platform duplicates the post title and the title tag with copy and paste.
Will this negatively impact SEO? No. But given the title tag is still the most important piece of content on your site (from an SEO perspective), not varying title and title tag is really more of a missed opportunity.
By varying your title and title tag and working in alternative keywords, stems, modifiers or synonyms, you make your content work even hard for you in the SERPs. And the more keyword variations in your content, the more opportunities your content has to rank in more searches.
There are a number of SEO plugins that allow you to vary post title and title tag, but my favorites are:
6. Add Sharing Buttons
Adding social buttons prompts sharing, which improves the distribution or your content across social platforms. Sharing can also help expose your content to new audiences.
From an SEO perspective, getting your content shared increases the likelihood of mentions and links. Also sharing helps your content get discovered faster; and the quicker it's found, the sooner it shows up in the index.
What's more, Google is gathering social data and this data impacts rankings. To what extent those social signals influence rankings is debatable, but Google clearly places some degree of value on social, and so should you.
To help increase distribution of your content across social channels, you need to implement frictionless sharing. Make your share buttons obvious, but not disruptive or distracting.
Sharebar is my favorite social sharing plugin for WordPress. It doesn't support Google+, but this quick snippet of code solves that.
Sharebar is good for two reasons. It shadows the reader as they move down the page, and it contains "share counts," which can help convey further trust, authority and popularity of an article for an audience.
Related reading
12:24 Publié dans Articles, Dipl.Ing.Stefan V.Raducanu, KM | Lien permanent | Commentaires (0) |
Imprimer |
|
Facebook | | | |